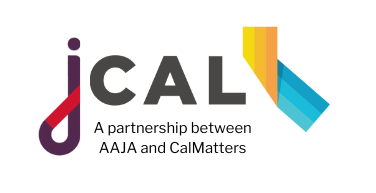 Application Information:
High school students in California with a strong interest in all aspects of journalism are encouraged to apply. High school aged students in California with a strong interest in journalism are encouraged to apply. Proof of vaccination is required to attend the program. Students selected for the program have all their costs, including travel, housing and meals, covered by AAJA and CalMatters.
Learn more about JCal on our website.

Applications will be reviewed on a rolling basis starting February 1.

Application Materials:
Letter of Recommendation
Required Essays:
- What stories and/or audiences are the journalists in your area missing? (250 words or less)
- If you were in charge of a news organization, what would its mission statement be? (250 words or less)
- Tell us about your upbringing and lived experience in California. Which communities are you a part of and how has that shaped you and how you experience the world? (400 words or less)
Reporting Pitch: Each JCal student will work on a journalism project during their time in the program. The goal is for this piece of journalism to be published at the end of the JCal program. This year, the reporting theme is the environment. Applicants must lay out, in detail, the reporting they want to do on this topic: what is the story, who would to interview, what format this piece would take, etc.
Work Samples (optional)
Introduction Video (optional)
About JCal:
JCal is an all-inclusive, free journalism program that immerses California high school students into the state's news ecosystem. Students build connections with the journalists covering their communities, learn about the inner workings of newsrooms and gain many of the skills needed to succeed in professional and academic realms. Each cohort is carefully selected to reflect the diversity of California residents. This innovative program is produced through a unique partnership between the Asian American Journalists Association and CalMatters.